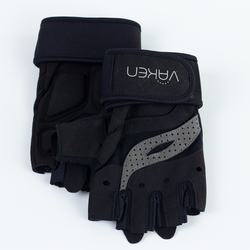 Vaken Fitness Gloves - Black/Grey
VAKEN Fitness Gloves
These are the stylish, lightweight, comfortable gloves you need to take your training the max. 
Get the exceptional results the easy way with ultimate protection and support
FEATURES
Built to the highest specification including cushioned palm and very fast hook & loop wrist strap. Lets you adjust for any activity. preference, or custom fit.
MATERIALS
Made with highly durable and always lightweight microfiber, 100% polyester with 100% polyurethane PU suede and 100% neoprene wristband. Resists preparation while being sturdy and supportive.
Assortment and Size Fit (Measure the circumference)
Size  S

 

7.0 inch - 7.5 inch
Size M

 

7.5 inch - 8.0 inch
Size L

 

8.0 inch - 8.5 inch
Size XL

 

8.5 inch - 9.0 inch
ถุงมือออกกำลังกายรุ่น " VAKEN Fitness Gloves "
ถุงมือออกกำลังกายดีไซน์พิเศษ ออกแบบมาเพื่อให้สวมใส่สบาย มีpad รองที่ฝ่ามือ เพื่อการ ให้คุณได้ออกกำลังกายให้ถึงขีดสุด ประกอบกับมี
สายรัดข้อมือที่ปรับได้ตามต้องการเพื่อรัดมือให้กระชับที่สุด
มีทั้งหมด 4 ขนาด (วัดเส้นรอบวงของฝ่ามือ)
S

: ความกว้างของฝ่ามือระหว่าง 7.0-7.5 นิ้ว
M

: ความกว้างของฝ่ามือระหว่าง 7.5-8.0 นิ้ว
L

: ความกว้างของฝ่ามือระหว่าง 8.0-8.5 นิ้ว
XL   : ความกว้างของฝ่ามือระหว่าง 8.5-9.0 นิ้ว
วัสดุ 
: 
ผลิตจากไมโครไฟเบอร์ที่ทนทานสูงและมีน้ำหนักเบา, โพลีเอสเตอร์ 100% ,หนังกลับ PU โพลียูรีเทน 100% และสายรัดข้อมือนีโอพรีน 100%
การดูแลรักษา
ซักด้วยมือในน้ำเย็น
ตากให้แห้ง และห้ามนำไปอบ
ห้ามบีบ หรือบิด ขณะถุงมือเปียก